3 anni fa · 2 min. di lettura · visibility 0 ·
A Few Thoughts on Digital Nomadism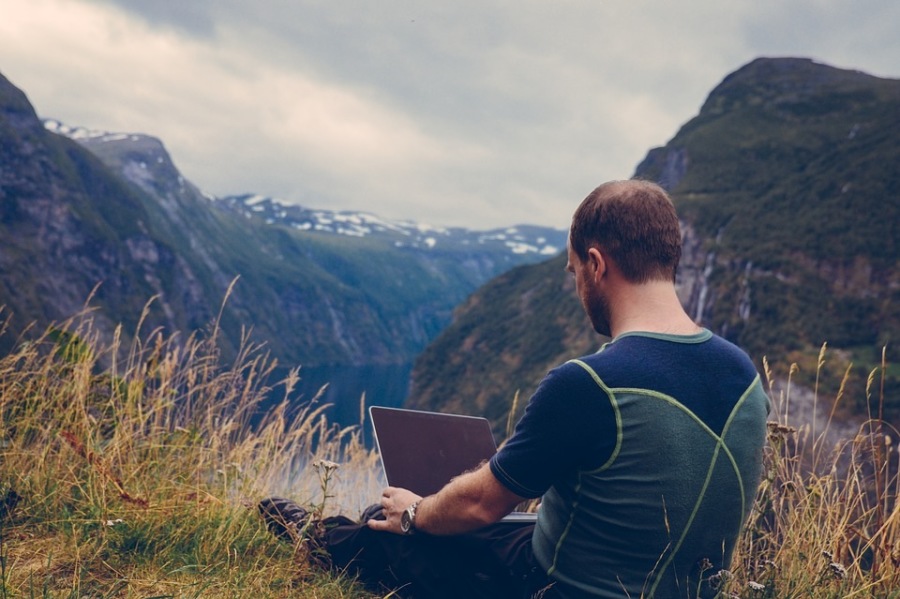 When people hear about digital nomadism (DN), they think of someone working out of a hammock next to a beach, with their laptop on their lap. However, this is misleading since you can work as a digital nomad in other places too, like this guy in the picture! Jokes aside, regardless of the hyperbole that surrounds this lifestyle, it is both a viable and intriguing option for people capable of working remotely. However, it's not for everyone and not every place is suitable for this way of living and working.
First of all, if your work includes lots of contact with people, it would be next to impossible to do it remotely, especially from another time zone. That's why DN is usually associated with tech work, such as software development, web marketing / design, and writing, even if it includes many more professions (e.g. video creators, editors, life coaches, many types of marketing experts, and even therapists).

Also, DN cannot work in places with poor internet connectivity. After all, without a reliable connection, there is a limit to what you can accomplish as a digital nomad (unless you are a writer or something, working on a  novel or something). This doesn't mean that you have to have super fast connections though like South Korea does. Most developing countries offer a good enough internet connectivity for most digital nomads' web needs.
Co-working spaces seem to be a big thing in DN. However, you can be a digital nomad even in places that don't have such places or they are too far away to be a practical everyday solution. These places definitely offer a lot of goodies, such as office equipment, a fast and reliable internet connection, and a sense of community, though for the latter, the Meetup and the Internations sites can be as good a possibility.

DN is also associated with constant travelling, which may make it unappealing to some people. Still, many digital nomads nowadays prefer to stay in a location for a while before moving somewhere else. If you don't have a visa restriction, it makes sense to linger longer in the places you visit, since this way it is less stressful and you can feel more at home. However, if you cannot legally stay in a place for more than 3 months, moving to another country it a necessity that you'll have to embrace (or find a way to extend your visa, whenever it is possible).
The most important thing in my view when it comes to DN is to go to a place without any expectations. It's hard not to compare with the other places you've lived in, but if you manage to avoid doing that, you have better chances of enjoying what your new home has to offer. After all, most likely it's a temporary residence anyway, so after a few months it will be just a memory...
Of course, DN is not for everyone as it requires a lot of getting out of your comfort zone. However, if you are prepared to do that, it becomes easier as time goes by. Eventually, you may come to feel like a citizen of the world, like the citizens of the Roman Empire (and probably other empires that embraced this idea), making every country a potential home for you. For me, that's one of the best take-aways of this lifestyle choice.
Finally, even though DN seems to be a niche way of working, it is bound to become more popular as time goes by. After all, many jobs nowadays can be done remotely, so more and more people are bound to come to expect that option, at least after they've been in a company for some time. Just the fact that you don't have to tolerate the traffic of the everyday commute is enough of a motivation for many people to take to the beaches or the woods and work from there, especially if other people do the same. After all, just because the static work lifestyle is the defacto choice now, it doesn't mean that it's the best option, particularly if your work can be done remotely. Besides, if many people leave the big cities to work remotely, that has benefits for the people who stay in those cities (reduced traffic is a benefit that comes to mind). So, with DN becoming more widespread, everyone has to gain from it, to some extent.

"
Non hai gruppi che si adattano alla tua ricerca