3 anni fa · 1 min. di lettura · visibility ~100 ·
Mind Maps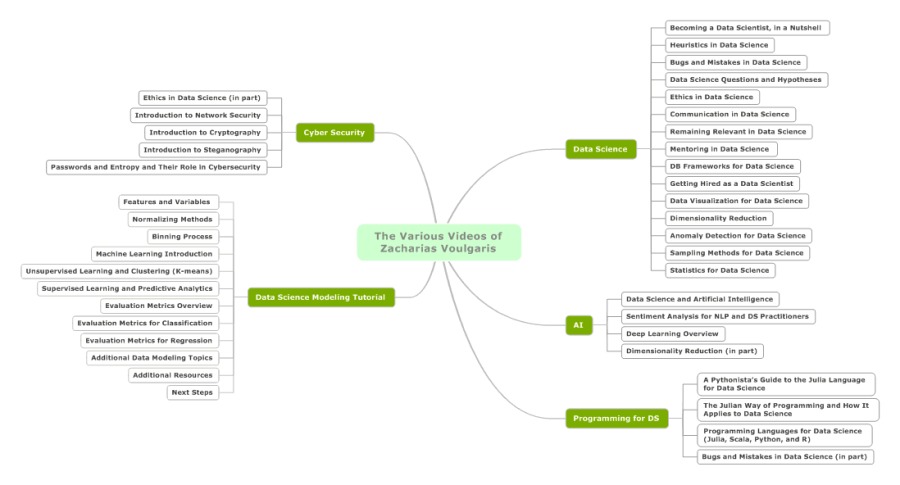 A mind map I've made and maintain, to keep track of the various videos I've made over time, for Safari. Other mind maps are more sophisticated, though all of them share a sense of intuitiveness.

What Is a Mind Map Anyway?

Mind maps are a very useful knowledge representation technique developed and popularized by Tony Buzan. It involves using both text and meaningful graphics to demonstrate an idea, concept, or any sort of knowledge, in a graph form that is intuitive and informative.
Key Advantages

The key advantages of mind maps are
* Comprehensiveness. Mind maps don't require any special training to understand, while even an adolescent can fashion them, learning about them just by viewing a few samples.
* Organization. Mind maps help organize the topic they are about, much like a good outline of a book.
* Engaging different parts of the mind. Mind maps are not strictly logical or strictly artistic creations. They tend to combine both, making them a fun way to represent information, without going in one or the other extreme.
* Easy to learn. From all this, it makes sense that these systems are fairly easy to learn, even without any particular guidance. Nevertheless, if the latter is preferred, there are people who provide workshops for them.

Popular Platforms for Mind Maps
Mind maps can be drawn by hand on a piece of paper (preferably without any lines or squares on it). However, it is much easier to use a specialized piece of software for it, as the mind map may change over time, to incorporate different elements, or even different connections among these elements. There are various platforms that enable that, such as Mindjet's Mindmanager (Windows OS), VYM (GNU/Linux OS), FreeMind (various OS), just to name a few. Some of them are proprietary while others are freeware. Also, there are several apps for mobile devices for creating and/or viewing mind maps. Some of these platforms are compatible with others, while most of them allow the exporting of mind maps to common formats, such as PDFs, images, and sometimes even HTML files.
What are your thoughts on the topic? How do / would you use a mind map for your professional or personal life? Also, if you know any ways to turn a Mindjet Mindmanager map into a VYM one, please let me know! Cheers.

"
Non hai gruppi che si adattano alla tua ricerca