10 mesi fa · 3 min. di lettura · visibility ~100 ·
My Take on the ReMarkable 2 Device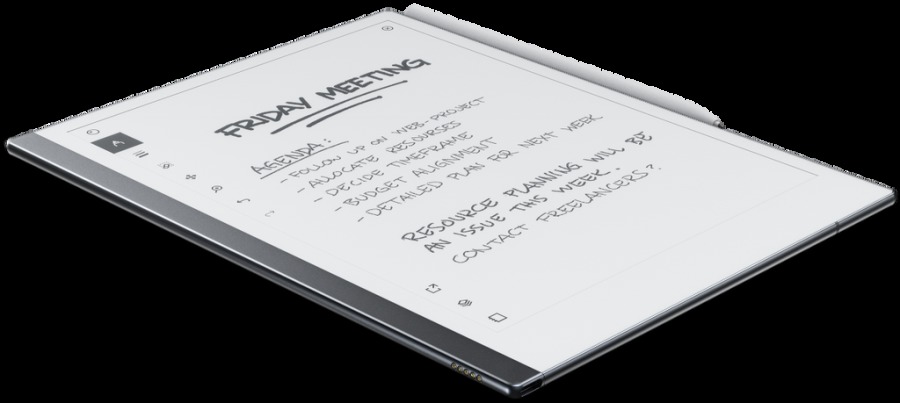 Introduction

An e-friend of mine from the South recommended this device to me a few months ago, a tablet of sorts for people who value focus and productivity (as well as creativity), rather than some slick state-of-the-art multi-purpose gadget. On the manufacturer's website, they state it clearly that this is a minimalist machine, one for a very particular set of tasks. Hell, it doesn't even run Android or IOS! I'm in IT for about two decades, and I don't know what operating system it runs. That's not a bad thing, however. But I'm getting ahead of myself. In this article, I'll talk about the good, the bad, and the ugly of this device. That's is based on my experience with it over the past 10 days, since it finally arrived at my place.

The Good

As I was writing this review, I left this section for the end as I have way too many things to say. So, first of all, the battery life is truly amazing. If you thought the good old Nokia cell phones had good battery life, you'd revise your view of them. With heavy use over the past few days (lots of sketching, highlighting, reading, and even forgetting the device on for a while, as I was doing other stuff), it managed to last about nine days. That's from a full battery charge until it reached 10%. When I wasn't using the device, I had it on sleep mode, and I never turned it off completely during this period (though I did restart it once).

Also, the apps it has, although few, are functional, easy to use, and well-designed. The file manager is simple and elegant, while it is mirrored (cloned?) to the cloud, so any changes you make to it can be viewed on the app, as well as on your computer if you connect the device to it manually. There is also an API for the device, but since it doesn't run on the operating system of my computer, I have no idea how it is. Even without it, however, transferring files to and from the computer is easy as pie (think Apple devices but without the restrictions of the Apple ecosystem).

What's more, the device itself is more minimalist that when you are using it, you have zero distractions (there isn't even a clock on it!). When you are using an application on it, that's the only thing visible. As for buttons, there is a single button on the top, which you can use to put the device to sleep. There is a manual for the device, though it's quite unlikely that you'll ever need it. For most questions and problems you may encounter, the manufacturer's website is more than adequate.

Finally, I was a bit concerned when I was about to receive the device since delivery people haven't been the strongest suit of this city. Still, I was very impressed to receive regular updates from the manufacturer and the delivery company, first to verify my address, then to tell me when to expect it, and finally to let me know that it was delivered (in case someone snitched it when I wasn't looking!). This level of professionalism alone makes me respect reMarkable more than any other tech brand I've invested. Honestly, these people should be giving seminars to other companies about brand development and customer service. Then again, the Scandinavians know a thing or two about professionalism and work ethic.

The Bad
Now on to the negatives of this device. After all, they couldn't fix all the drawbacks of reMarkable 1 in a single iteration. So far, I've discovered a total of two negative things about this device (!), and I find that this number is unlikely to go up. Namely, the transferring of files between the reMarkable cloud and the device leaves the user in the dark. It may take seconds or minutes, and there is no way of knowing about it. Of course, if you have the device online all the time, it doesn't matter much but if you have it on airplane mode most of the time (something preferable for various reasons), it creates a sense of unease and uncertainty about the device's functionality.

Additionally, the app of the reMarkable tablet is anything but remarkable. To put it bluntly, it's so bad, that the third-party apps for this device, apps that are full of ads, are actually a good alternative to consider. The main good thing about the reMarkable app is that it's free and that it's well designed. The help part of the menu doesn't work at all, while you can only transfer stuff to and from the cloud, in a way that makes working on the Linux shell seen easy. Of course, you'll only see what I'm talking about if you manage to pair the app with the device, something that takes more know-how than most people can muster.
The Ugly
Surprisingly, there is nothing ugly about the whole thing. Even the highly problematic app is well-designed. Hell, even the browser interface on your computer (something you'll see if and only if you connect the device to it using a USB cable) is slick and beautiful in its simplicity. I don't know how much the designer team got from the overall budget of the project, but they sure earned every Krone of it!

What are your thoughts on this device? Would you buy it, either for yourself or for a friend? Let me know in the comments below. Cheers!

Non hai gruppi che si adattano alla tua ricerca