4 anni fa · 2 min. di lettura · visibility 0 ·
The Dangers of a Dualistic Perspective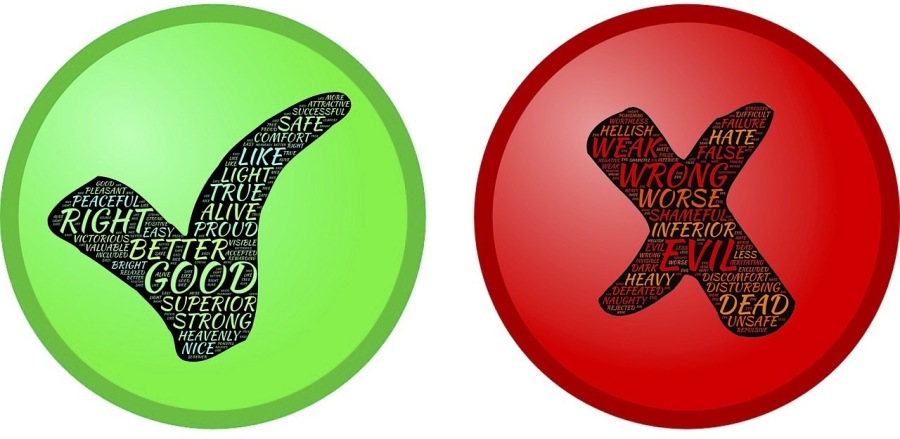 We hear it very often: this is good while that is bad. Be it a political candidate or a big data solution, people nowadays have a tendency to see things in a binary fashion. Although this binary thinking may work well when it comes to computers (which are binary by nature), it doesn't seem to be applicable in everyday life scenarios. Yet, people still want to have a clear-cut, this-or-the-other approach to situations that are inherently complex and non-binary.
Perhaps it is the fact that in Information Science everything can be broken down to a finite number of categories or states, and if we continue on that path, we end up with a binary classification of things. In data science, it is often the case that we perform sentiment analysis on a text. Even though there is a myriad of sentiments out there, we generally go for "positive" and "negative" only. This makes sense from an engineering perspective, as it is much easier to model the problem on a paradigm that allows only two states. However, things are not so simple in the real world. We can tell if a person talks more positively or more negatively, but not all positively-speaking people are the same, nor does that offer us any useful information in many cases. There are also other factors involved, such as what the objective of the talk is, for example. If this person is a TED speaker, most likely they are going to talk in a positive manner, since that's the norm for this kind of talks. Also, if that person is presenting some issues in a meeting, they are going to have a more negative verbal content. Does this mean that these people are positive or negative respectively?
Also, what about trending topics? Are they binary in nature, like a machine learning system would have us believe? Or is the situation more complex than that? Is the acquisition of LinkedIn by Microsoft, for example, something good or is it bad? Well, it depends on who you ask and on the criteria you use. I'm sure many of the people who work in the acquired company are delighted, since now they are going to be working for a more established and generally better company. I don't think many of the users of LinkedIn share the same perspective though, as many of them may not like to have their data in Microsoft's databases. So, things are not so clear-cut as they may seem.
It is a sign of a mature mind to always seek various perspectives on any given matter. Unless you are dealing with a math problem, which is much more straight-forward by nature, chances are that whatever you are looking at has various angles, many of which are worth examining. If Science has taught us one thing, it is that we should never feel comfortable with what we know. That's why whatever new knowledge we obtain through Science is always up for debate. We talk about theories, not taboo knowledge that is never to be questioned. Even things we have thought to be valid for centuries, like Newtonian Physics, has been proven to be invalid under certain cases, situations where what we are examining is very fast (Relativistic Physics) or very small (Quantum Physics). Why not have the same attitude to other matters, such as what we are facing in our everyday lives? Are things so much simpler there, as the Pulse feeds would have us believe?
The dualistic perspective may have its place in low-level computer science matters, as well as in conventional mathematics and many data science applications. However, in the real world it rarely holds true. It may be good as a starting point, but it should never be the framework with which we view the world, unless we are very fond of black and white imagery. Personally, I'd like to have as many colors in my vision as possible…
"
Non hai gruppi che si adattano alla tua ricerca