3 anni fa · 2 min. di lettura · visibility 0 ·
The Value(s) of Good Engineering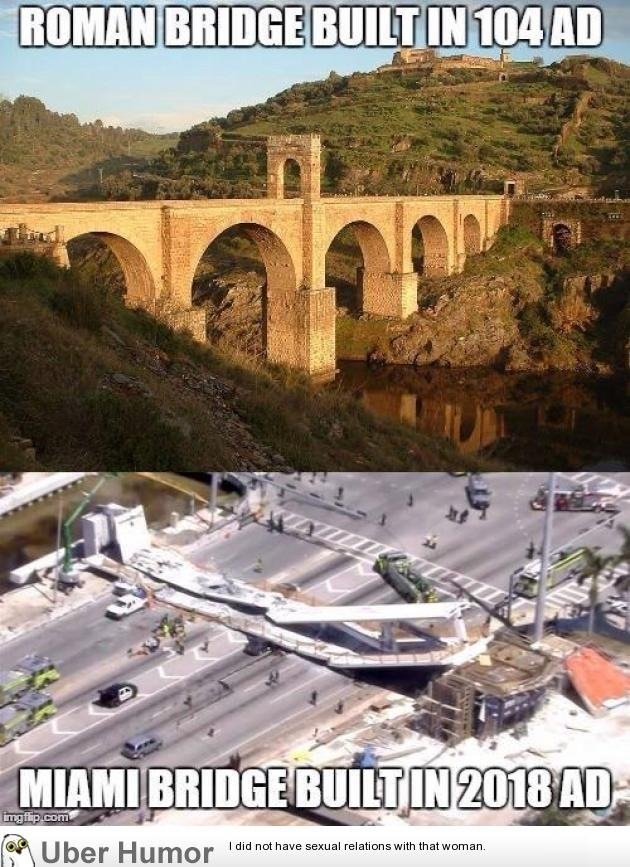 I came across this interesting image on a humor site today and I thought of sharing it. However, upon thinking about it for a bit, I realized that there is much more to the story than a joke, since this simple example is a testament to how things have changed in the Western world since the time of the Romans (who are in a way the ancestors of modern Western civilization, as an organizational social structure).
I'm not a huge fan of the Roman Empire of that era, as it definitely had its issues (plus it had conquered Greece, which was not cool). However, there is little doubt that the engineering of that culture was way ahead of its time, in ways that most people don't realize. For example, Romans used a special kind of concrete that wouldn't decay over time, since they wanted their architectural structures to last as long as possible. This value of timelessness (which imbued the whole city of Rome) was reflected not only in their temples, but also on their more mundane buildings, such as a bridges. Even many of their ornaments, such as the mosaics, were built to withstand the ruthless laws of entropy.

Fast-forward to today, when everything is built in order to maximize its ROI, or in the case of non-profit projects, to minimize their cost. This may be beneficial in the short term, but in the long term it makes for terrible structures. The funny thing is that modern Western civilization prides itself for its technological acumen and its engineering superiority. When modern Westerners look back at traditional societies they see them as primitive (with the exception of the cultures of classical times perhaps, since there are enough wonders they still cannot explain, rendering them bizarrely advanced in these niche fields).

However, even if we have this advanced know-how today that enables us to put a fully electrical car in production and in orbit, we have lost something. Perhaps we never learned it in the first place, since most of our books and videos that make up our educational material focus on practical knowledge, instead of paying more heed to history and the plethora of lessons it has to offer to us. We are so detached from the past, focusing so obsessively on the future (hence the modern ideology of Futurism that reigns supreme nowadays), that we neglect to educate ourselves on the values that are at the backbone of every civilization that had a fighting chance against time. It makes one wonder whether future archaeologists will see us as advanced as we see ourselves, or if they'll see us as a humanity that has lost its way and has forgotten its roots.
Good engineering, just like good science, is not divorced from the rest of culture. It is more practical and easily appreciable, no doubt about that, but it's also heavily dependent on the values the engineer has. The ancient Romans (and many other peoples) remembered that and did what they did for the glory of their culture, not the ego of the person who paid the bills. Also, they aspired to be excellent in their craft, rather than filthy rich. Many of them were probably well-off too, but that wasn't their main motivation. So, even if their tools were inferior to ours, their minds weren't, nor the ideas that powered them. Perhaps that's why they remain relevant in our history books, just like their works that transcendent the boundaries of utility and attained Art status.

Non hai gruppi che si adattano alla tua ricerca